Dear Valued Users,
Be a winner at UEFA Euro 2020! Play along with Huobi Global at one of the biggest and most exciting sporting events, and score a
share of our massive $400,000 prize pool! Root for your favorite teams and claim your rewards!
Activity Period: 16:00, June 11 - 04:00, June 24 (UTC)
Activity I. New Users Exclusive: Claim Your Share of 30,000 USDT 
Grab your share of 20,000 USDT by completing the following tasks:
In addition to the 20,000 USDT prize, participants who complete the above three tasks with a minimum net deposit of 1,000 USDT worth of any tokens from other exchanges or wallets can win an equal share of 10,000 USDT. 
*Net deposit volume = Deposit volume - Withdrawal volume
Activity II. Root for Your Teams and Share 370,000 USDT
1. Complete the following tasks to win a chance of sharing 250,000 USDT:
Supporters of thetop 5 most popular teamsin our vote can share 250,000 USDT. The more trading volume you achieve, the more valid votes you can cast, and the more rewards you could win!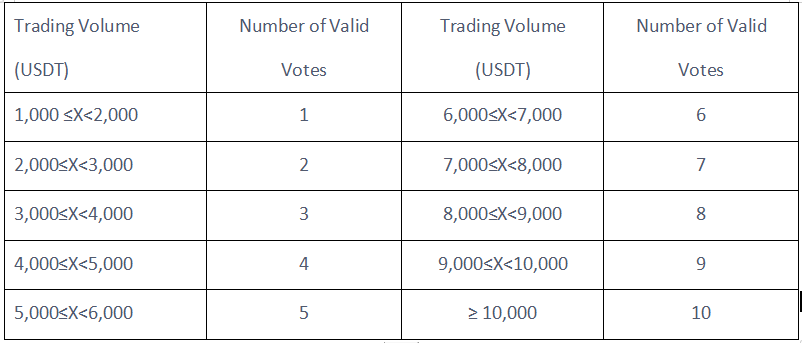 Rewards for each supporter to top 5 teams = (Each supporter' valid votes to top 5 teams / Total valid votes to all top 5 teams) * 250,000 USDT
If you vote more than your valid votes, only your latest votes will be deemed as valid. E.g. If you have 5 valid votes, but you vote 6 times, we will count the 2-6th votes and ignore the 1st vote.
2. All qualified participants who vote for teams that are not in the top 5 will split a prize pool of 40,000 USDT based on their trading volume.
* The reward for each supporter to non-top-5 teams = (Total trading volume of each supporter to non-top-5 teams / Total trading volume of all supporters to non-top-5 teams) * 40,000 USDT
For example:
User A has 6 valid votes with a total trading volume of 6,000 USDT, and he/she casts 3 votes for the top 5 teams and 3 for non-top-5 teams. 
The total number of valid votes for the top 5 teams is 120,000, and the total trading volume of supporters for non-top-5 teams is 30,000,000.
Then the rewards for User A = (3/120,000)*250,000 USDT + 6,000/30,000,000*40,000 USDT = 14.25 USDT
3. Extra Time Bonus: An extra prize pool of 80,000 USDT will be introduced after the Group Stage. Please stay tuned!
Notes:
If you don't have a Huobi account, click

 

here

to create one during the activity period. New accounts also qualify to earn up to $170 in our

Welcome Bonus

program.

Trading volume counts both buys and sells (excluding wash trades) across all fiat, spot, and futures trading pairs.

Wash trading occurs when the selling party and buying party belong to the same parent account, in one trading order.

The trading volume of sub-accounts will count towards that of the parent account for the final calculation.

Participants who fail to complete the

Identity Verification

before the activity ends will be unqualified to get any rewards.

The rewards will be distributed to participants' parent accounts within 2 weeks after the activity ends.

Users from the following countries or regions will be unable to participate in this campaign: Mainland China, Iran, North Korea, the United States of America, Sudan, Japan, Cuba, Hong Kong (China), Venezuela, Canada.

Huobi Global reserves the right to decide on the final outcome of the activity as well as disqualify participants if any fraudulent behavior is detected.
Huobi Global
June 11, 2021
Trade on the go with Huobi Global App (iOS/Android)
Find us on
Twitter: https://twitter.com/HuobiGlobal
Facebook: https://www.facebook.com/huobiglobalofficial/
Instagram: https://www.instagram.com/huobiglobalofficial/
Reddit: https://www.reddit.com/r/HuobiGlobal/
Medium: https://huobiglobal.medium.com/
Telegram: https://t.me/huobiglobalofficial
Huobi Global reserves the right in its sole discretion to amend, revise or cancel this announcement at any time and for any reasons without prior notice.
Risk Disclaimer: As prices of digital assets are highly volatile, users could lose all or a substantial portion of the value of any digital asset they purchase. It is recommended that users consider their risk appetite and only make careful, informed decisions when trading any digital asset. By listing a digital asset on Huobi Global, Huobi Global does not make any recommendation or representation on the value of such a digital asset. Huobi Global shall not be liable for any losses users may incur from purchasing a digital asset listed on Huobi Global.
Anything contained in any of Huobi Global promotions, announcements, banners or other publications (hereinafter referred to as "Promotion") is for information purposes only and should not be construed as trading advice or recommendations. Huobi Global makes no representations or guarantees in respect of any Promotion on Huobi Global conducted by users as Promotion is carried out at their own risk. Huobi Global shall not be liable for any losses users may incur from such activities.
This disclaimer does not contain all the relevant risks, terms, and conditions you should be aware of prior to trading digital assets on Huobi Global. Please also read our user agreement at https://www.huobi.com/support/en-us/detail/360000298561.After reading, if you have any doubts on whether trading digital assets on Huobi Global is suitable for you, please seek the advice of a professional advisor.