*Event period: 00:00 (UTC) on Nov 18, 2021- 00:00 (UTC) on Jan 19, 2022
Note: Prize pool will not be available between January 17-18, 2022. Rewards are redeemable on these two days. It will not be redeemable after the event period ends.
*Rewards
The event offers a daily prize pool that varies with the number of participants. You can share the daily prize pool by completing tasks. Please visit the event page for the daily prize pool information.
*How to participate?
Tutorial Video: https://www.huobi.com/support/en-us/detail/74891372014171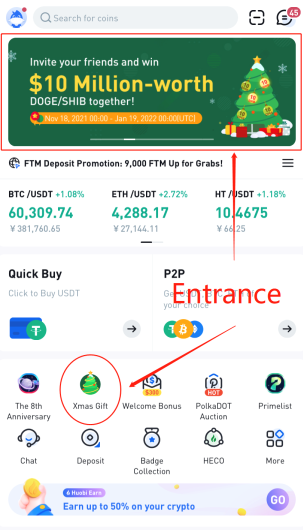 Step 1: Collect points
During the event period, by inviting friends to register for a Huobi account, both you and your friend can get points. The daily prize pool is shared based on the points each user gets. The more friends you invite, the more rewards you will get.
How to earn points:
#1: Be invited to register as a new user of Huobi Global in this event to get 1 point.
#2: Invite friends to register, and get 1 point for every friend you invite.
#3: Sharing the event: During the event period, if you share your invitation link with a friend for the first time, you will receive 2 points.
#4: Share/Create a short video: You can earn extra points by sharing our Tutorial Video or creating a short introduction video for this event and posting it on social media (e.g. TikTok, Twitter, Facebook, YouTube, Instagram, etc.), and submitting your sharing/posting link to us. After the review is passed, 3 points will be awarded to you.Each user can only receive points via this task once.No extra points will be given for multiple submissions. The points will be issued after the review is passed. The review process will take no longer than three working days to complete.
Example: A new user who has registered through this event, invited 100 friends to register via his/her invitation link, and completed the short video task review on the same day, will get: 1 + 100 * 1 + 2 + 3 = 106 points
Remarks: Points are valid on a daily basis. All points are cleared every day and cannot be carried forward to the next day.
Step 2: Win locked daily rewards
Users who earn points can share the daily prize pool and win rewards. The reward at this time is locked and cannot be claimed immediately. The rewards are only redeemable after unlocking.
Your reward of a day = Prize pool amount of the day * (Your points of the day / Total points of all users' of the day)
Example: If user A gets 100 points on a certain day of the event and the total points of all users' on that day is 10,000, and the prize pool on that day is 50,000 DOGE, then A's reward on the day is: 50,000 DOGE * (100/10,000) = 500 DOGE. However, the reward is yet redeemable at this time. The user needs to unlock the reward before claiming it.
Step 3: Unlock daily rewards
If the new user you've invited completes identity verification on a certain day during the event, you can unlock the corresponding reward of the invitation day.
Reward amount to be unlocked = Total individual reward amount of the day * (Number of verified invitees / total number of new users invited to register on the day)
Example: User A invited 100 friends to register on Dec 1. A's total reward on that day is 500 DOGE, and 80 of them completed verification during Dec 1 - 5, then the reward amount to be unlocked for Dec 1 is 500 DOGE * (80/100) = 400 DOGE.
Remarks: The details of daily rewards, locked rewards, and unlocked rewards can be viewed in Reward Details on the event page. If the new users fail to complete verification during the event period, the locked part of the rewards will become invalid.
Step 4. Click on the Christmas tree fruits to receive rewards
Your daily rewards will be distributed to the Christmas tree on the event page. If you have unlocked any of the daily rewards, the fruits on the event page will mature. Click on the ripe fruits to get rewards of the corresponding amounts.
Step 5. Your rewards will be distributed across 3 days
Your rewards will be distributed to your Exchange Account across 3 days: 50% on the first day (the day of redemption), 30% on the second day, and 20% on the third day. For the rewards of the second and third day, please click on the ripe fruits to claim them.
Example: If user A clicks on ripe fruit of 500 DOGE on Dec 1, the 500 DOGE reward will be delivered to A's Exchange Account across 3 days, i.e. 250 DOGE (50%) on Dec 1, 150 DOGE (30%) on Dec 2, and 100 DOGE (20%) on Dec 3.
*Notes
Excluded countries/regions: Mainland China, Iran, North Korea, the United States, Sudan, Japan, Cuba, Hong Kong (China), Venezuela, Canada, Singapore

Daily prize pool: 00:00 (UTC) - 00:00 (UTC) next day. Rewards are settled at 00:00 every day.

Huobi reserves the right to final decision in this event. In case of any cheating behaviors such as wash trading and account manipulation, Huobi has the right to disqualify the users involved and forfeit the rewards without prior notice.
Huobi Global
November 15, 2021
Trade on the go with Huobi Global App (iOS/Android)
Find us on
Twitter: https://twitter.com/HuobiGlobal
Facebook: https://www.facebook.com/huobiglobalofficial/
Instagram: https://www.instagram.com/huobiglobalofficial/
Reddit: https://www.reddit.com/r/HuobiGlobal/
Medium: https://huobiglobal.medium.com/
Telegram:
https://t.me/huobiglobalofficial
Huobi Global reserves the right in its sole discretion to amend or change or cancel this announcement at any time and for any reasons without prior notice. The above is for information purposes only and Huobi Global makes no recommendations or guarantees in respect of any digital asset, product, or promotion on Huobi Global. Prices of digital assets are highly volatile and trading digital assets involves risk. Please read our Risk Reminder text here.