Fees
Deposit: FREE
Withdrawal: 2 BRL / withdrawal
Limits
BRL Deposit Limits
Verification tier
Requirement
Min
Max Per order
Per month
Per year

Tier 2

Basic information + identity recognition

1.5 BRL

50,000 BRL

100,000 BRL

500,000 BRL

Tier 3

Expected trading volume/Income/Employment

1.5 BRL

500,000 BRL

1,000,000 BRL

5,000,000 BRL

Tier 4

Proof of Address & Source of Funds

1.5 BRL

500,000 BRL

1,000,000 BRL

5,000,000 BRL

BRL Withdrawal Limits
Verification tier
Requirement
Min
Max Per order
Per month
Per year

Tier 2

Basic information + identity recognition

1 BRL

5,000

BRL

10,000

BRL

50,000

BRL

Tier 3

Expected trading volume/Income/Employment

1 BRL

50,000

BRL

100,000

BRL

500,000

BRL

Tier 4

Proof of Address & Source of Funds

1 BRL

50,000

BRL

100,000

BRL

500,000

BRL
*Click here to see How to Complete Verification for BRL deposits?
1. Log in to your Huobi account, go to Exchange account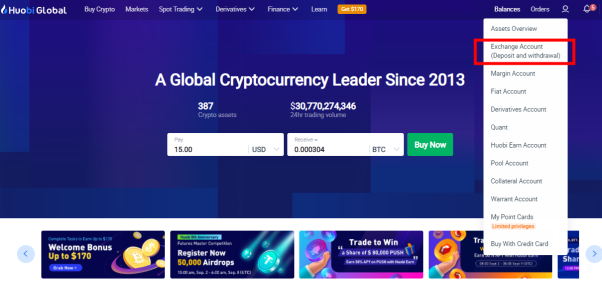 2. Search for [BRL] under fiat currency, click [Deposit].

3. If you are the first-time deposit BRL via bank transfer, please complete CPF verification before depositing.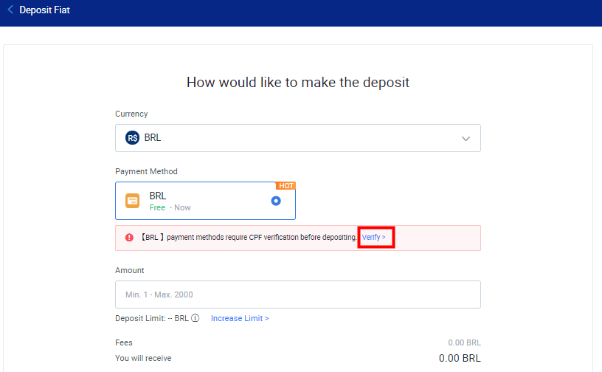 4. Enter your CPF, your phone number, and your email address. It normally only takes a few minutes to get approved.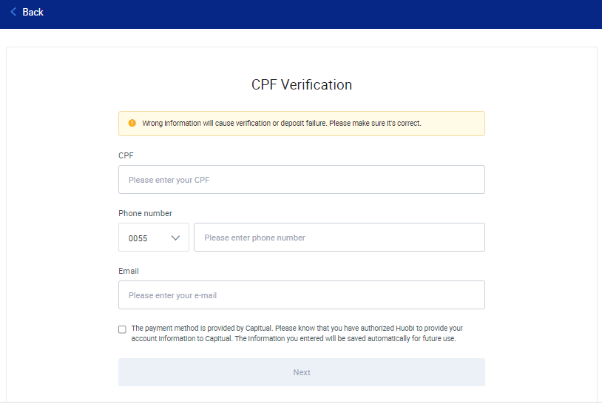 5. After your CPF verification is approved, enter the amount you want to deposit and click [Next].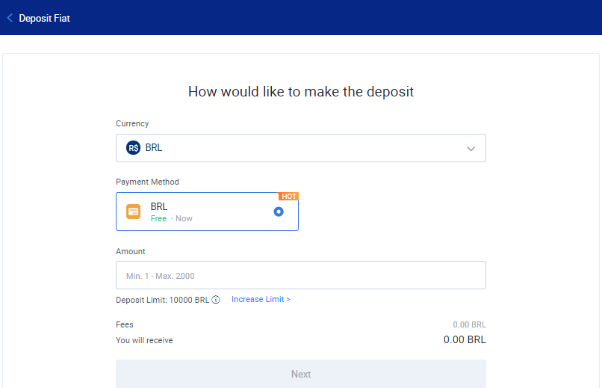 6. Confirm the order detail. Now you can choose to pay by scanning the following PIX QR Code or transfer to the bank accounts shown on the screen with your bank's App (please finish the transfer within 3 working days).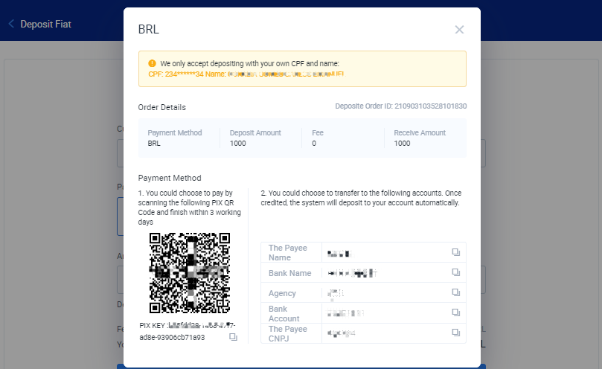 Please note that the name on the bank transfer request must match the name on your Huobi account
7. Please wait patiently for your bank to process your order. Once the transfer is made successfully, the system will deposit the funds to your Huobi account automatically.
You can go to [Transaction History] to check the order status. If for any reason your order did not arrive, you can go to customer support by clicking HELP, or contact [email protected].
-----------------------------------
Buy Cryptos with 0% Commission Fee on Huobi
[ Official Customer Service Email ] [email protected]