Dear Valued Users,
To celebrate the launch of Huobi P2P zero fees trading, we are honored to invite you to participate in this event to experience our advertising functions.
Event Period: 00:00:00, July 1, 2021 - 23:59:59 July 31, 2021 (UTC+8)
Event Rules:
1. Basic Rewards: During the event period, if you successfully publish an ad for selling USDT for the first time and complete at least 3 real orders through this ad, you will receive 10 HUSD, provided that the total amount sold via the ad is greater than 100 USDT.
2. Additional Rewards: If you complete at least 20 real orders through posting ads during the event and the real total trading volume is greater than 5,000 USDT, you will receive another 50 HUSD.
*Ad for selling USDT refers to an Ad by which advertisers sell USDT and ordinary users buy USDT. The advertising interface is as follows: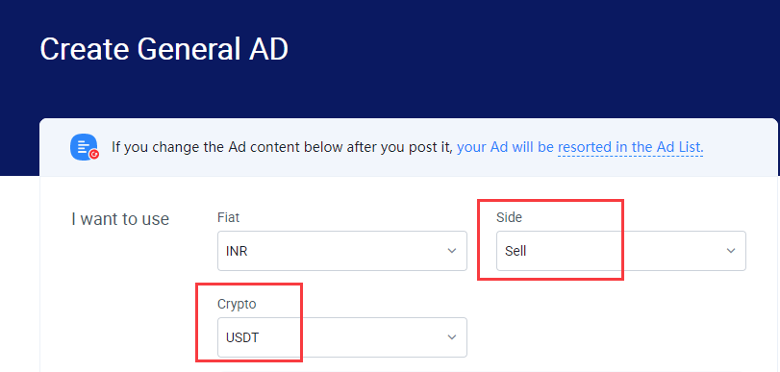 How to Participate:
1. Complete Advanced Verification: https://c2c.huobi.com/en-us/senior?switch=1
2. Bind your phone number: https://account.huobi.com/en-us/user-center/security/
3. Learn how to post an ad: https://www.huobi.com/support/en-us/detail/360000100561
4. Experience advertising: https://c2c.huobi.ge/en-us/user-center/general/ad-publish/
Please Note:
1. This event is only appliable for users who post ads for the first time, complete Advanced Verification and bind their phone number. The completion rate shall be greater than 85% at the end of the event (30-day order completion rate = (total number of completed orders in the last 30 days as a buyer / total orders) *100%).
2. Only real completed orders during the event will be counted for the purposes of this event. Ordinary users shall not have any direct contact with advertisers, and the ordinary users shall complete Real-name Authentication.
3. This event is limited to INR, RUB&UAH, NGN, EUR, GBP and IDR regions. Each region has a maximum prize pool of 1,500 HUSD, and the total prize pool is 9,000 HUSD. Rewards are given on a first-come, first-served basis, while stocks last.
4. Huobi staff might contact you to verify your account information, and request you to provide the transaction history to verify the authenticity of the orders.
5. Each new advertiser (including team) shall only receive one reward in one region. If the reward conditions are met in multiple regions at the same time, the highest reward applicable will be distributed.
6. Rewards will be distributed to your Exchange Account within 10 working days after the end of the event.
7. Any fraudulent behavior is strictly prohibited during the event, otherwise all applicable rewards will be cancelled.
8. Huobi reserves the right to final interpretation of this event.
*Citizens and residents from the U.S. , Mainland China and other sanctioned jurisdictions are not permitted to participate in the event / use the services mentioned above. Huobi may restrict additional jurisdictions from time to time without prior notice.
-----------------------------------
Buy Cryptos with 0% Commission Fee on Huobi
[ Official Customer Service Email ] [email protected]