Dear Valued Users,


There's never been a better time to use the USDT conversion function on the Huobi platform. With our latest promotion, you'll get 5% extra tokens of your crypto purchase for free if you convert it from USDT bought on Huobi P2P!
Promotion Period: 16:00:00 (UTC) on Oct 24, 2021 – 15:59:59 (UTC) on Nov 7, 2021
Promotion Rules:


Just 2 steps to grab your prize!
Go to Huobi.com -> Buy Crypto -> P2P Market -> complete a single purchase of over 100 USDT on Huobi P2P
Convert over 100 USDT to any ONE crypto of AXS/ADA/ATOM/ALGO/AVAX/DOT/SOL.

You can complete the conversion through the following methods:
a. For PC users: Go to Buy Crypto -> Quick Buy/Sell -> Convert with 0 fees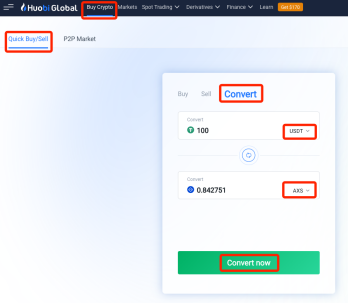 b. For mobile users: Open the Huobi App, switch to Huobi Lite -> Convert with 0 fees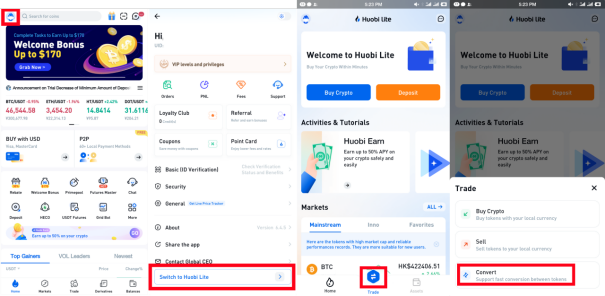 Then you will get crypto and free crypto as the prize!

You might like to know:

Terms and Conditions:
This event is available for the following local currencies supported on Huobi: ARS/AUD/MYR/INR/IDR/TWD/RUB/HKD/NGN/PHP/PKR/SGD/SAR/THB.

This event is not applicable to Mainland China users and P2P Advertiser. Fees may be incurred for purchases of crypto using Local Currency outside of the Huobi platform. Such fees shall be borne by the buyer.

Users who buy USDT with Local Currency on Huobi P2P first and convert USDT to AXS/ADA/ATOM/ALGO/AVAX/DOT/SOL will be eligible to win the prize.

The prize pool is $8,000 worth in AXS/ADA/ATOM/ALGO/AVAX/DOT/SOL, and the actual issuing amount will be based on the closing price on the last day of the event. Each Huobi account could win up to 25 USDT during the whole event. The prize will be calculated by the cumulative purchasing volume during the event and issued according to the completion time of conversion, first come, first served. If a user completes multiple conversions during the event, the final prize will be based on the crypto of the first conversion.

Please complete

advanced verification

(ID & face comparison) before trading.
Rewards will be distributed to the user's Huobi Exchange Account within 10 working days after the end of the event.

Any fraudulent behavior, as well as trades that display attributes of self-dealing or market manipulation, are strictly prohibited during the event. Otherwise, all rewards will be nullified.

Huobi Global reserves the final interpretation of this event.


Huobi Global
October 22, 2021

*Citizens and residents from the U.S., Mainland China and other restricted jurisdictions are not permitted to participate in the event / use the services mentioned above. Huobi may restrict additional jurisdictions from time to time without prior notice.