1. FastTrack OVERVIEW
FastTrack mechanism is best described as a voting-based listing process.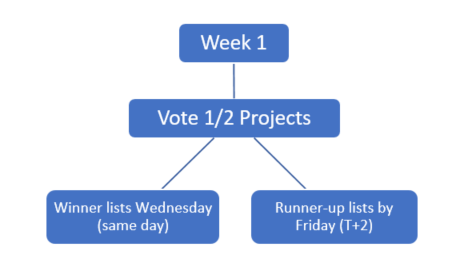 Steps as follows:
Huobi Global will announce 2 FastTrack project candidates each week.
*Users will vote using HT on these projects on Wednesday to determine the project to be listed. Users can only vote 1 project at a time.
The winner for the week will be listed on Huobi's main board the same day.
Runner-up will list by Friday the same week. 
2. Voting Eligibility & Rules
Participants must maintain a minimum HT position of 1,000HT during the HT Holding Period as stated below to qualify for FastTrack voting. Eligible FastTrack users can vote up to the lowest HT position held during the HT holding period, subject to a maximum quantity of 5,000HT across all Prime trading rounds.
The HT holding period is defined as the period between each voting session i.e. typically one (1) week (*with exception for the initial FastTrack vote).
Minimum HT Position to Vote on FastTrack (Floor): 1,000HT
Maximum HT Votes Applicable Per Individual (Cap): 5,000HT
Voting Denomination: Minimum 1 HT (i.e. no fractional votes)
*Note: 100% of HT held by user, limited to the user's voting cap, will be automatically applied for voting. There is no option to vote less than your voting cap.
3. 3-Steps for FastTrack Voting
Click here to check your voting quota: FastTrack Eligibility
Step 1: Login to HBG 20 minutes ahead of time via web, *app or client.
| | |
| --- | --- |
| On PC Web | On Mobile |
| |   |
*Make sure you have the most updated APP version on your mobile. 
Step Two: Click 'voting' button to vote for your project during the voting period and click 'Confirm' to submit. Only one (1) project can be selected.
| | |
| --- | --- |
| On PC Web | On Mobile |
|   | |
Please note that there is no option to specify HT vote quantity. All HT holdings, subject to the trading limit of 5,000HT, will be applied to the vote by the system.
Step Three: Wait for results of vote and final allocation details after voting stage is completed. All updates are on the same FastTrack page.
| | |
| --- | --- |
| On PC Web | On Mobile |
| | |
Lucky User
How do you know if you are a Lucky User? For Phase 1 Round 2 voting,  lucky users who will be able to purchase 20% of all volume for the project token will receive this Koi (Fish) pop-up.
| | |
| --- | --- |
| On PC Web | On Mobile |
|   |   |